Giving Dogs an Outdoor Home
What do you do when there are dogs in your community that have little or no shelter to protect them from the freezing cold rain and wind in the winter and the extreme heat in the summer?
You start a non-profit, call it Habitat for Hounds, ask Rabun Animal Hospital to sponsor you, and begin building and delivering houses to dogs in need.
Brenda Nash, founder and CEO, and Erv Leonard, CFO, joined forces in November 2010 and since that time they have built over 325 doghouses which have been distributed to dogs throughout our community and beyond.
Helping Pet Owners in Need
The houses are given, at no charge, to owners who are unable to provide shelter for their dog themselves. Brenda solicits grants and manages the paperwork involved in being a non-profit organization. Erv builds the houses and handles the finances.
The mission of Habitat for Hounds is to continue caring for these deserving dogs and our vision, as funds allow, is to provide chain-link kennels as well as houses to dogs that are tethered.
We are funded by community donations and grants, with supporters from as far away as Florida and Maine. All monies go directly to the construction of the houses.
Back in 2010, Brenda observed one dog, named Dixie, that needed a doghouse. Dixie got her warm, insulated, straw-filled house and was the inspiration for many more doghouses to be built for grateful owners and deserving dogs.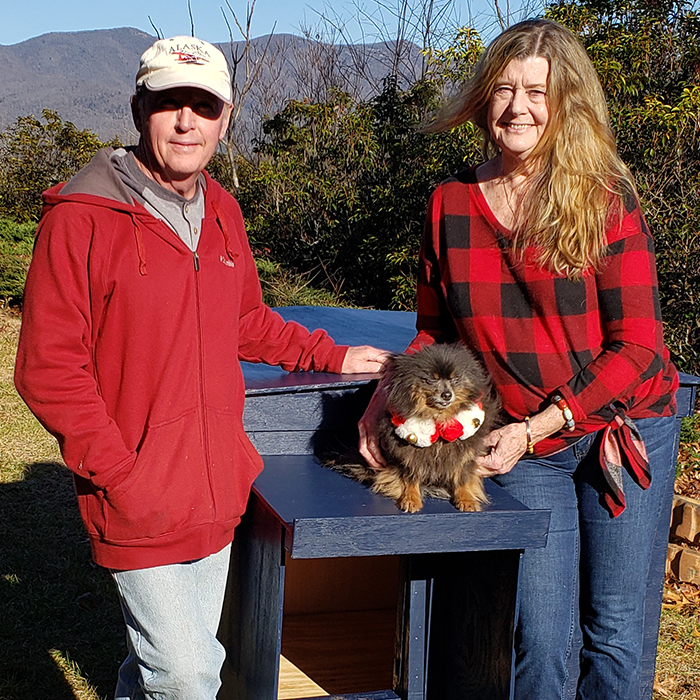 Interesting in Donating?
Donations may be made through our GoFundMe account (search Habitat for Hounds doghouses), and PayPal (h4hsga@gmail.com) as well as our website.
There is also a donation jar at Rabun Animal Hospital where donations may be dropped off. Donations may also be sent to Brenda Nash at P.O. Box 386, Tiger, GA. 30576. Checks should be made out to Habitat for Hounds.