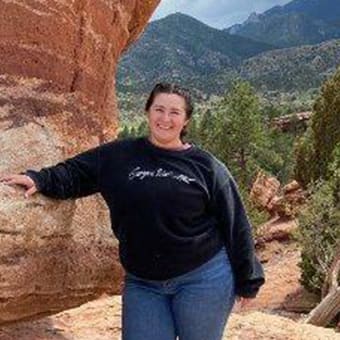 Dr. Téa Cook
Dr. Téa Cook has been with Rabun Animal since May 2023. She grew up in Fayetteville, GA and graduated from Sandy Creek High School in 2013. She went on to the University of Miami to study marine biology but ended up transferring and graduating from Georgia Southern University in 2017 with a BS in biology and a pre-vet concentration.
She then went on to veterinary school and graduated from the University of Georgia in 2023 with an emphasis on mixed animal general practice. Her veterinary interests include preventative care, dentistry, reproductive medicine, and ophthalmology.
She is newly married to her husband Lukas, a Rabun county native.They live with their sweet rescue pup Wiley and their newest addition - Moira, a crazy, cute torty kitten. They both always keep them on their toes. In her free time, Téa enjoys reading fiction novels, painting, boating, travelling, and spending quality time with her husband, friends, and family. She is so excited to serve Rabun County by loving on all your pets!